Alloy wheels
Aba , Abia

Neat alloy wheel for all cars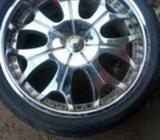 Chrome wheel
Port Harcourt , Rivers

Sound 20inch chrome wheel for Hylander Lexus, Honda etc only serious buyer should me
Wheel spinner
Iyana Ipaja , Lagos

A white and black wheel spinner
Wheel cover
Moudi

Wheel cover for your car, use for vehicle with 15 rims tire
Alloys Wheels
Lagos Island , Lagos

Brand new alloy wheels for your cars and SUV for different sizes both new and tokunbo available...We also do trade in (counter balace ).
Sell your Cars fast
Advertise for FREE in just few seconds
Alloy wheels
Mushin , Lagos

Brand new alloy wheels for your cars
Alloy Wheels
Mushin , Lagos

I sell brand new wheels and tires. You can also trade in your old wheels for a new one.
Chrome clean wheel
Port Harcourt , Rivers

Very clean and sharp for all Toyota product, Lexus, hylander etc 18inch
Steering Wheel Covers
Surulere , Lagos

Get your durable and strong steering wheel covers at affordable prices...both small and big ones available
Wheel balancer Garutech
Ikeja , Lagos

Brand new wheel balancing machine
Related keywords
Safety tips for Buyers
➣

Make the payment only after you receive the item.

➣

Always meet the seller at a safe location.

➣

Do not pay until you have verified the item.
Read more
close
Set Filters to get the Best Result
Refine Search
Refine Category
Looking for a Job?
Attach your CV and get the best Job. Let employers find you easily!
Post your Resume