Bruhm 58" 4K Uhd TV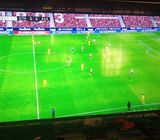 Bruhm 58" 4K Uhd TV
Oshodi , Lagos

Sold bbbbbbnnn
Plasma TV 32 inches
Plasma TV 32 inches
Ibadan , Oyo

Durable plasma TV in different brands such as:Panasonic, Toshiba
LG 24inches
LG 24inches
Abule Egba , Lagos

Working and perfect and in good condition
Digihome 32 inches flat screen TV
Digihome 32 inches flat screen TV
Abeokuta , Ogun

A fairly use 32 inches Digihome flatscreen is for sale. Excellent picture with two hdmi ports and inbuilt DVD player.

Price is Negotiable
LG 50 inches LED tv
LG 50 inches LED tv
Obio-Akpor , Rivers

LG 50 inches LED tv, internet access, HD, USB, HDMI
Sell your TV - Audio - Video fast
Advertise for FREE in just few seconds
Samsung 55 inches plasma television with complete accessories
Samsung 55 inches plasma television with complete accessories
Apapa , Lagos

Full option in a perfect working condition
New sparkling lg 32 inches plasma tv available for sale call or Whatsapp 07089208062
New sparkling lg 32 inches plasma tv available for sale call or Whatsapp 07089208062
Apapa , Lagos

Full option with complete accessories in a perfect working condition
LG 42 INCHES LCD LED
LG 42 INCHES LCD LED
Alimosho , Lagos

... class full hd 1080p lcd tv
42 inch hd-ready 1080p with built in freeview ...
used TV for sale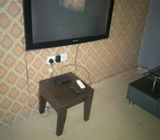 used TV for sale
Lekki , Lagos

used 43inch sansung tv in vey good condition for sale in lekki.
TV Wall Bracket Hanger
TV Wall Bracket Hanger
Ibadan , Oyo

... gives you a lot of room for other things an also makes your living room or offices look neat and nice.


Key features

...
Safety tips for Buyers
➣

Make the payment only after you receive the item.

➣

Always meet the seller at a safe location.

➣

Do not pay until you have verified the item.
Read more
close
Set Filters to get the Best Result
Refine Search
Refine Category
Looking for a Job?
Attach your CV and get the best Job. Let employers find you easily!
Post your Resume